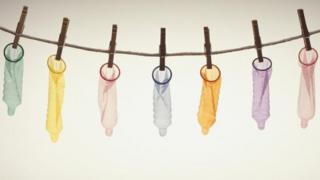 California work safety officials have voted against forcing porn actors to wear condoms to prevent the spread of sexually transmitted diseases (STD).
Porn industry representatives argued that condoms were a turn-off for viewers and could destroy the industry.
They warned such a ruling in favour of condoms could lead to actors also being required to wear safety goggles and dental dams.
Performers are currently required to be tested every two weeks for STDs.
The vote came after the Aids Healthcare Foundation lobbied California's Division of Occupational Safety and Health's Standards Board (Cal/OSHA) for stricter workplace safety rules in porn.
But industry representatives also said making actors wear condoms could push the industry underground, where health risks would be greater.
They also said stricter safety provisions could be interpreted as requiring sex workers to ensure their eyes were protected from infection by blood-borne pathogens by wearing goggles like those worn by doctors.
Such a requirement would spell the end of many porn film scenes, they said.
"When you criminalise sex work in any way, you make it more dangerous," said said porn actress and journalist SiouxsieQ.
However, the porn trade association the Free Speech Coalition said it was keen to work with officials to create acceptable safety standards.
Condoms are already required to be worn for porn films made in Los Angeles County under rules approved by voters in 2012.
Californians will vote on whether to extend that requirement across the state in November.